News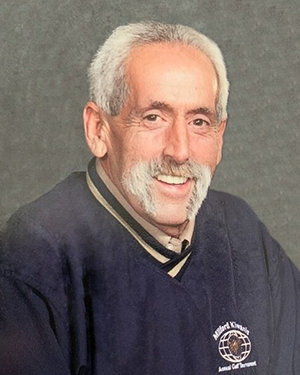 In loving Memory of Jimmy Wayne
Milford Kiwanis is saddened by the loss of our friend and brother Jimmy Wayne.
Please find information below about his wake and burial.

A walk through wake will take place on Wednesday, April 21, 2021 from 3:00 p.m. to 6:00 p.m. at the Cody-White Funeral Home, 107 Broad St., Milford. Masks will be required and social distance enforced. A Mass of Christian Burial will be celebrated on Thursday, April 22, 2021 at 11 a.m. at Saint Mary Church (Precious Blood Parish), 70 Gulf St., Milford (MEET DIRECTLY AT CHURCH). Masks will be required. Interment will follow at Saint Mary Cemetery, Buckingham Ave., Milford. In lieu of flowers, memorial contributions may be made in James' memory to the Kiwanis Club of Milford at www.milfordkiwanis.org/donations.aspx, Connecticut Hospice, 100 Double Beach Rd., Branford, or a charity of one's choice.

Keeping Milford Warm to Honor Peggy Kelly
MILFORD, CONNECTICUT- October 06, 2016- Keeping Milford Warm Founder - Kevin McGrath and the Board of Directors of this Milford , Connecticut non profit organization in conjunction with the Milford Kiwanis Club announced that the Organizations Annual Holiday fundraiser will be held at Grassy Hill Country Club on Saturday, December 10th , 2016 and will honor and recognize Mrs. Peggy Kelly, Program Manager of TheMilford Family Resource Center for her years of Outstanding Public Service to the Milford Community and her help and support in helping to establish Keeping Milford Warm.

Keeping Milford Warm was established to make sure that no City of Milford resident or Milford Family would ever go without the assistance of heating their residence if they had no funds to pay for heating . The Organization services the whole city of Milford for those in need. The December 10th fundraising event is open to the public and additional information regarding Keeping Milford Warm can be found @ www.keepingmilfordwarm.com , or email [email protected] Tickets can also be purchased online through Eventbrite.

Keeping Milford Warm - 230 Woodmont Rd, Milford, CT 06460
Milford Kiwanis Club of Milford, Connecticut Foundation Inc. is a 501 (c)(3)

FBI Documentary "Chasing the Dragon: The Life of an Opioid Addict" Public Screening/Open Forum on Opioid Addiction
(Milford, CT) The public is invited to a free public screening of the powerful and important FBI documentary "Chasing the Dragon" and open forum discussion, to be held in the Parsons Veterans Memorial Auditorium on October 27th at 6:00pm - 8:00pm . ... More

Milford Kiwanis Club 30th Annual Golf Tournament
The Milford Kiwanis Club Golf Tournament will be held on Monday, September 12, 2022, at the Orange Hills Country Club (389 Racebrook Road, Orange, CT). Foursomes are available on a first come, first serve basis ... More

Milford Kiwanis Club Donates $4,600 for AED Purchase
Milford, CT—August 12, 2015—Representatives from the Milford Kiwanis Club recently presented a check for $4,600 to the Milford Public Schools to be used for the purchase of three new Automated External Defibrillators. Dr. Elizabeth Feser was on hand to accept the donation on behalf of the school district. The AED units will be assigned to three school buildings in the upcoming school year. Milford Kiwanis chapter president Bill Richards, along with Club members David Kuehn and Mike Boyle, made the formal presentation. "The good works connected with the Milford Kiwanis are well-known and far-reaching in our community. We thank them for their generosity," Dr. Feser commented ...More